Nov 23, 2022
A Guide and Description to Top International Payment Gateways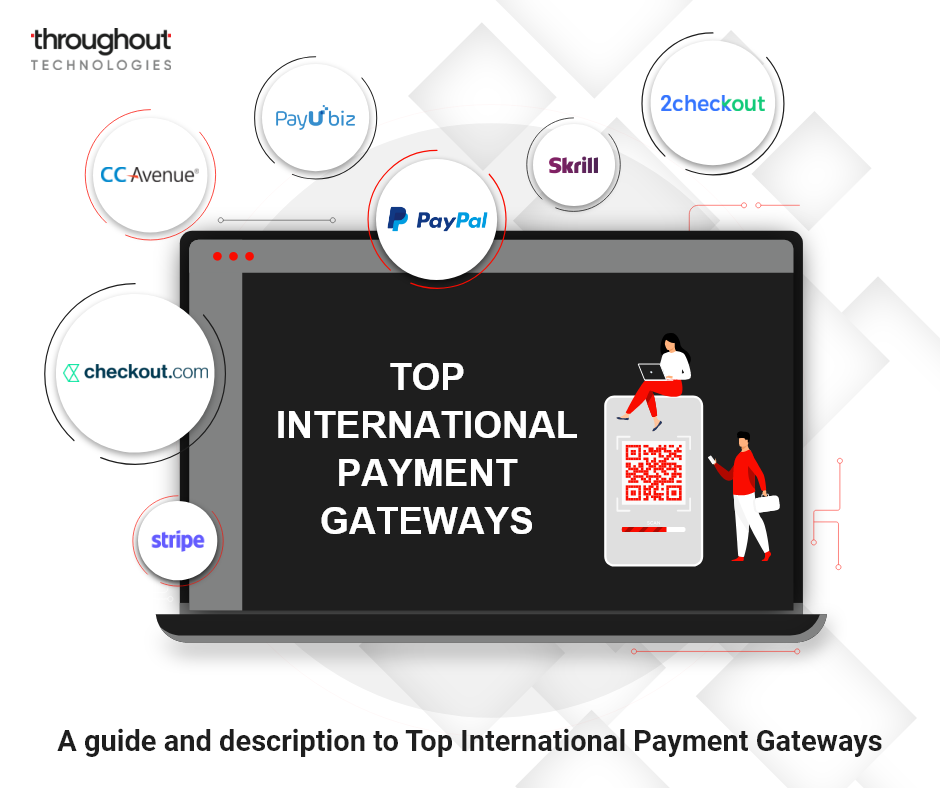 Each online financial transaction involves the buyer, seller and their respective bank accounts. The payment gateways are the important aspect for each part of the transaction. The transaction therefore includes:

The merchant –The person who is providing the goods or services.
The customer – The person who is buying from you, using a debit or credit card.
The issuing bank – this is the customer's bank, which has issued the credit or debit card.
The acquiring bank (or acquirer) – the merchant's bank, which is receiving the money for the purchase.

The process of making this complete transaction, starting from user giving their details on payment page , to their payment being accepted as valid and then being transferred from the issuing bank to the accepting bank, takes several steps.

This process is simplified through the payment gateways. With the help of international payment gateways one can accept the payment across the globe.
In order to help you out to select the best payment gateway, we've rounded up the top international payment gateways. Let's have a quick look at these payment gateways:

1. PayPal
2. PayUbiz
3. CCAvenue
4. 2Checkout
5. Stripe
6. Checkout.com
7. Skrill

Paypal
The PayPal Payments services allows a merchant or shopkeeper to receive payment for the goods sold or services rendered from across the globe.Through the PayPal payment gateway integration, you will be able to collect payment online using the credit card or debit card. This payment gateway is helpful for credit card or direct payments processing for e-businesses, online retailers.

Payubiz
PayUbiz is one of the best online payment gateway management software in India. PayUbiz can integrate several payment methods, such as credit cards, debit cards, mobile wallets, net banking, and UPI, as well. This payment gateway software can be integrated into your ongoing APIs for the collection of dues.

PayUbiz payment gateway software also facilitates multi-currency support. It offers effective payment option switching in case of payment failure.

Who are the targeted users of PayUbiz?

PayUbiz online payment gateway serves some of the biggest E-commerce companies and online service providers for transports, food delivery, etc. Some well-known companies associated with PayUbiz are Myntra, Grofers, Urban Ladder, Alt Balaji, BookMyShow, Ola, Jabong, etc.

What are the features provided by PayUbiz?

PayUbiz online payment gateway offers numerous beneficial features for organizations that use it. Here are a few listed below for a better understanding of the product:

1. Mobile-Centric Functioning
2. Excellent User Experience
3. Multiple Payment Options
4. Efficient Integration
5. Best Conversion Rates
6. Analytics and Reports

CC Avenue
CCAvenue is the world's most advanced omni channel payment platform to accept,track & manage payments.Designed to manage your business on the move, the CCAvenue app makes it easy to check payment status, capture or cancel payments, issue refunds, track your business performance and request for payments from anywhere, at any time. It offers convergence of all online & offline channels with a single view of sales and settlements for easy transaction reconciliation. The easy-to-use app is perfect for all your business payment needs.

2Checkout
The all-in-one monetization platform that maximizes revenues and makes global online business.The platform's modular design was created to meet the various dynamic needs:

1. Global payments
2. Digital commerce
3. Subscription billing
4. Global Tax & financial services
6. Risk management & compliance
7. Partner sales

This payment gateway provides seamless headache free payment services with various features:

1. Intelligent payment routing
2. Multi-currency management
3. Flexible payment models
4. Simple subscription billing
5. Global tax management and management.

Stripe
World's most powerful and easy-to-use payment API. Stripe is an Irish American financial service headquartered in San Francisco and Dublin. The company offers one of the reliable payment processors across the globe for eCommerce stores and mobile applications.

The Stripe online payment gateway is trusted by millions of companies in more than 120 countries including Amazon, Google, Microsoft, Shopify, Uber, Spotify, Slack, National Geographic, and many more.

The company was launched in 2011 and has come a long way to nail all the sectors like B2B, B2C, eCommerce & Retail, software as service, and Non-profit & Fundraising. Now, Stripe has millions of its users from 14 global offices with more than 4,000 employees.

Checkout.com
Checkout.com serves as a gateway, processor, acquirer and fraud manager through a single API integration. Together, our innovation and expertise bring you more payment options, increased acceptance rates, quicker settlement of funds, and much more. More revenue, higher growth.

Skrill
Skrill is a digital wallet provider established in 2001 which offers a range of online payment and money transfer services. Customers can upload money to their Skrill wallet using various payment options including by card, bank transfer, and a number of alternative payment methods. The funds can then be used to pay merchants, other Skrill users, or transferred into cryptocurrency.

1. Instant move money between sites.
2. Withdraw to your bank in seconds

Hopefully enough, this blog on top payment gateways proves immensely helpful for you in choosing the right payment gateway for your business!!